With six smart fuses and one thermostat
With this package you can remotely control two 3-phase heating loops with elements or six elements with individual fuses.
The package includes:
6 smart fuses
A central unit
A thermostat
Tempiros app
Optional 3G modem *
Additional smart fuses can be purchase for only 490 SEK each.
We offer also leasing for only SEK 175/month. No starting fee or binding period (Sweden only).
* The price for 3G modem is SEK 950. When ordering a 3G modem, we offer a subscription for SEK 49 / month. When you sign up for a 12 month subscription (SEK 588 / year) you get a 50% discount on 3G modem.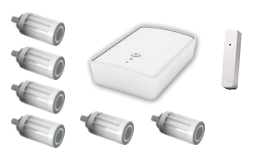 Are you interested in purchasing this kit? Fill in this form and we will contact you soon!